The Tether crypto coin is backed by USD. In addition to providing investors and buyers with a reserve asset, Tether allows for easy currency switching. Whether you prefer trading USD or a different currency, Tether will provide an additional layer of liquidity to exchanges. Here is a breakdown of some of the details about the Tether. In this article, we will discuss the reserves of the Tether cryptocurrency and its relationship with BNY Mellon.
Tether's reserves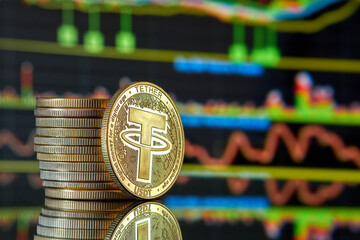 A report released this week shows that Tether's reserves have been in the red since August, when the company settled with the New York Attorney General's office for $18.5 million. But usage of Tether has soared in recent months, and the market capitalization of the cryptocurrency is now over $58 billion. Adjusted on-chain transaction volume has also surpassed $1 trillion in the past week. On-chain volume refers to buys and sells on the Tether blockchain.
Tether's Q1 2022 assurance report shows that the commercial paper backing the Tether coin has decreased by 17% from the previous quarter. Commercial paper is an unsecured short-term loan issued by a corporation and is made up of around 20% of the company's reserves. Paulo Ardoino, the company's chief technology officer, said the company has made progress since then. However, while the cryptocurrency is still only 86% backed by cash, it has been a long way from being 100 percent backed by cash last year.
While Tether has survived a stress test, there has still been widespread uncertainty about the currency's reserves. Its value briefly fell below $1, and investors began to redeem their tokens. This lowered the value of Tether temporarily, but it soon recovered its peg to the U.S. dollar. These uncertainties have led to many investors calling for more transparency around Tether's reserves. In addition to this, the cryptocurrency was previously in hot water for its lack of transparency regarding its reserves. But the company has recently published two reports stating that USDT is fully backed by USD.
However, the recent crypto crash has also raised questions about the reserve fund of Tether. Since May's decoupling, Tether has been hewed close to the dollar peg. However, it is still being widely used and relies on its reserve of dollar-equivalent assets. The currency's reserves are often questioned and are not backed by a full audit. And Tether's reserves are almost double what they were at the end of last year.
Its relationship with BNY Mellon
A new deal between Circle and BNY Mellon highlights the need for crypto to forge closer ties with Wall Street. The two financial institutions have partnered to provide custody of USDC, the second largest stablecoin, and they will also investigate the use of digital cash for settlement. This deal is a big deal for Circle, which has been in business for 10 years. Founder Logan Allin is also an investor in Tether.
The Tether crypto coin's relationship with BYM is not without controversy. The company has been accused of playing a pivotal role in the OneCoin cryptocurrency scam. BNY Mellon has denied this, and has refused to comment on rumors about its banking relationship. However, some analysts have claimed that the bank played a major role in processing $137 million of funds for OneCoin participants.
The cryptocurrency community is already addressing the issue of systemic risk with its latest relationship with BNY Mellon. The cryptocurrency exchange has been backed by the U.S. dollar, and the company's assurance report demonstrates that commercial paper is a steadily decreasing portion of its reserves. As a result, it may be the lender of last resort for Tether holders. It's also an excellent example of socially established firms acting as bankers.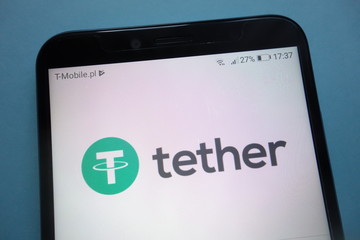 Bitfinex also claims that the money they control is not linked to Bitfinex. This is not entirely surprising. Bitfinex's attorney has claimed that Tether's reserves total $2.1 billion, which represents seventy-four percent of its outstanding tethers. In the end, the Tether was unable to access the funds. This has resulted in some people in the crypto community expecting regulators to give Bitfinex the money back.
Its USD-backing
Unlike other cryptocurrencies, Tether is backed by actual dollars and is owned by Bitfinex. Users load USD onto Bitfinex to purchase the token, and it maintains a 1:1 ratio with those dollars. The system also maintains a reserve fund for the platform. Traders can use the currency without sacrificing safety. Its USD-backing is one of the reasons it's so popular. Here's how it works: